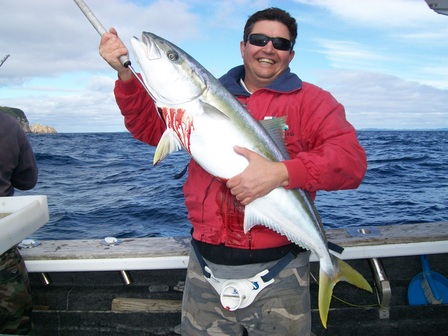 Auckland is renowned for its active fishing grounds and sportfishing in New Zealand is one of the most popular recreational outdoor activities of most Kiwis. The vast extents of the Hauraki Gulf holds an abundant and healthy number of some of the best saltwater table fish that New Zealand has to offer. Snapper is a widely sought after fish for any angler and is considered to be the best for its luscious and scrumptious flesh that can be cooked in so many ways.
In addition to Snapper and Kingfish there are also a number of other species like Kahawai (Sea Salmon), Gurnard, John Dory, Trevally etc that could be fished for using different methods of fishing depending on the targeted species. The fish stocks are well regulated using a Quota Management System where size and numbers of certain fish caught applies. A list and habitat of various species could be obtained from our other pages if you would like to know more about them.
The methods we use according to the species targeted are conventional baiting and softbaiting when bottom fishing for snapper. Also live baiting and various jigging tactics for kingfish and game fishing. Snapper fishing charters depart daily depending on the weather.

So Book your fishing excursion and enjoy the thrill of fishing in some of Auckland's best locations while still enjoying the great views of the outer limits of Auckland city, where clusters of little Islands have breath-taking views at dawn and dusk making it a great sightseeing experience as well. All in the hands of experienced skippers who knows the sea after many years on the water. You could also pre purchase Gift Vouchers to be used at a later date.
For your NZ Fishing Charters Auckland , we have these boats to work with.Our vessel "MV LegASea" caters for groups of 10 anglers (Prefer 8 for a comfortable trip) and our Vessel "MV Elusive" also caters for groups of up to 10 persons (Prefer 8 for a comfortable trip). All our charter boats have all the approved safety gear and is surveyed by a very reputed safe ship management company.
MV LegASea Hauraki Gulf Kingfish! MV Elusive
Boating and Fishing Directory Sunwukong Travel Catalog & Directory
Submit your site to a web directory. This site is listed under Guides and Charters Directory


Internet Directory