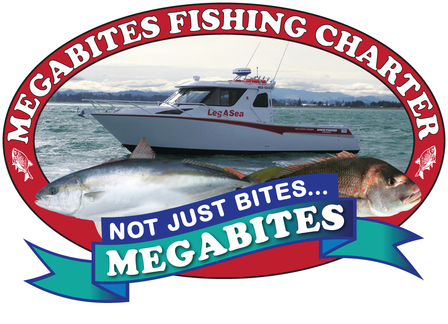 Welcome to our December 2012 Megabites Fishing Charter Newsletter.

Happy New Year to you all and wishing you the very best of health and happiness for 2013.
With Christmas just gone and the new Year set in its hardly surprising how time flies. Look at this, Nearly half of January is over and we have lost sense of time.
I hope you all enjoyed the festive season in catching up with family and friends and exchanging gifts and being surprised, while enjoying the fun and the laughter that it brings in building better families and relationships. Long may it continue and have a good one folks !
Its kept us busy as well and to elaborate here's what you will find:
In this Edition:
What's happening with the fishing?

Our Sponsors

Whats working at the moment?

The Innovators !
So what's happening with the Fishing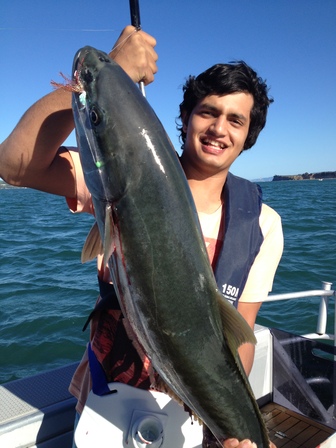 The fishing has been great and we are having a good success rate.However, there are days when the fish are busy with their spawning and the bite times are short lived. It can be frustrating at times when the sounder shows some great sign and the fish are not interested in what is being offered. I have had those days and yet on the next day in the same spots they will be firing. Having said that, we have had only a few days where my patience was tested , fortunately on the rest of the days we had a very high success rate. Check the young lad out in the picture who landed this nice kingfish on the 1st of jan. What a way to start the year ! he was over the moon and with just a 15 pound line he had to work hard for his money. Well done ! I don't have to tell you the power of a kingfish - You fully are aware of that and its everyones dream to land that big one .

The fish are moving in and close to the harbour bridge and we have picked up some nice fish there. But it is still a bit patchy and a touch and go situation. The fides run quick and getting your line down could pose a huge challenge.
The Rangitoto channel and the Motuihe channel are also producing some great results. Again the tides could pose a bit of a mission in the Motuihe channel.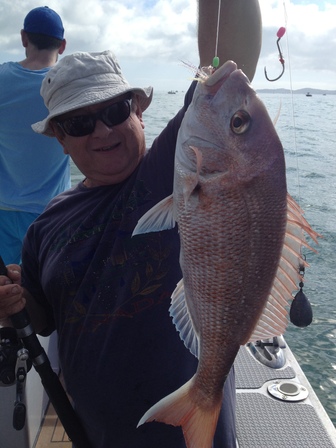 Remember if you fish with the tide and the wind in the same direction you have a better chance of landing some good fish.
Out in the middle ground and the Noises ,the haystack and the Rakino channels are producing some nice snapper as well. The kingfish have started to move in close and its not uncommon to see them just under the boat hammering the bait fish.
What's working at the moment?
Fresh is always best. Pilchards and squid are still proving to be awesome bait. When a school of good fish are running then a nice yellow tail can be lethal.
On the kingfish trips, live baiting and surface trawing poppers have proved effective.

Our Sponsors:
It has been really busy for us all and that goes with our likely sponsors as well. We are still in the process of getting a fishing and tackle shop as our sponsors where you could look forward to some great deals when it comes to fishing and tackle equipment. There will also be numerous prizes that we will be giving away or won with a very small entry requirement. So we will keep you posted of all thats going on.

The Innovators!
This new section on our website is proving quite popular and we are getting a few emails with peoples ideas. Thank you to those who have taken the time off your busy schedules to help us with this newsletter.
Please do keep your ideas rolling in and we appreciate all your ideas and innovations.
All you have to do is give us an idea of what you want in this magazine and if we use that idea , we will publish the idea with your photo in our newsletter as well as give you a free fishing trip with everything provided. We treasure your ideas so keep them flowing. No idea is silly and we welcome all that you have to offer. All you have to do is go to my website www.megabitesfishing.co.nz and click on the page "Blog / News" . Then click on the title "Innovations" and put in your great idea there. If we use your innovation we will contact you and request a photo of you with your authorisation for it to be put on our newsletter and you get your free trip.
So get your thinking caps on and be in to WIN !
In the mean time take care and have a wonderful year ahead ! Tight Lines !
Here's a bit of humour to lighten you up !

A man is out fishing in his row boat when suddenly a passing speed boat raises huge waves and the man's oars falls overboard!

He is stranded out in the middle of the lake!

After about two hours, he sees another row boat going by with a man and two women in it!

The first man yells, "Hey buddy, can I borrow one of your oars?"

The other man yells back, "They're not whores ... they're my sisters